Smart Grids are the future of energy. By creating networks from power plant to home, utility companies will be able to regulate power consumption making sure that consumers are receiving the amount that is needed, no more or less. While this new use of networking technology and unique applications such as smart meters will help to conserve energy it also opens up a pipeline, that was regulated manually, into the computer world of interconnected networks. The infrastructure that is being built will need to have robust security as an attack on this network could create chaos to tens of thousands of power consumers, stop a utility company in its tracks, or be used in a cyberwar.
Securing the Smart Grid takes a look at grid security today, how it is developing and being deployed into now over 10 million households in the US alone. Direct attacks to smart meters as well as attacks via the networks will be detailed along with suggestions for defense against them. A framework for how security should be implemented throughout this growing system will be included directing security consultants, and system and network architects on how to keep the grid strong against attackers big and small.
As referenced in Securing the Smart Grid, get your copy of the Smart Grid Social Networking Security Checklist.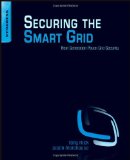 Details how old and new hacking techniques can be used against the grid and how to defend against them
Discusses current security initiatives and how they fall short of what is needed
Find out how hackers can use the new infrastructure against itself